NU degree admission circular 2019-20 has been published on their notice board and website at a time. To get ll information of NU admission 2019, follow their website nu.edu.bd/admissions or admissions.nu.edu.bd and bcsstudy.com. NU degree admission circular is publish today at 12 November, 2019.
NU degree admission circular 2019 process will running from 14 November, 2019 to 28 November, 2019. Application time deadline is 12:00 am. Class will start 15 December, 2019.
Let's see all information to apply and get admission online.
NU degree admission circular 2019-20
NU degree pass course circular 2019 are published at 12th November, 2019. Here is admission start and end date with class start date bellow images. Just follow next all step to get full application process. In this article, I'll explain full application guide to get admission in NU degree pass course according to nu degree admission notice.
See here details.
Required Qualification for Admission
If you wanna apply NU degree pass course? You must meet some requirements to eligible. I'm writing here that information. Minimum GPA 2.0 in SSC result of 2015/2016/2017 and minimum 2.0 GPA in HSC result of 2017/2018/2019. Also can apply vocational and BM students according to conditions.
Let's see details.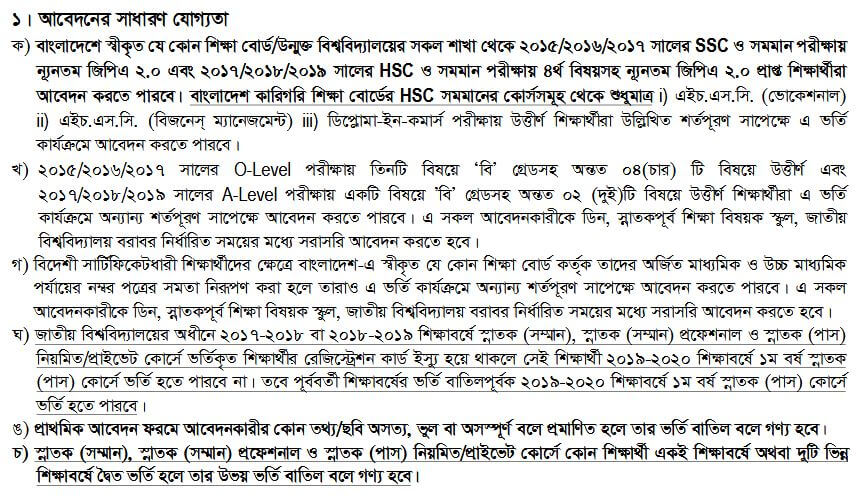 NU Degree Admission Circular (Primary Data)
Here is primary details of NU admission details. Information like, application start date, deadline, application fees, class start etc.
Let's see bellows details about nu degree admission date.
Application Start: 14 November, 2019
Application Deadline: 28 November, 2019
Application Fee: 250 Taka 
Class Start: 15 December, 2019
Application Website: http://app1.nu.edu.bd/
Admission Procedure, Number Distribution and Result
This is admission procedure of NU degree pass. Subject base merit list will publish by each college. Select students by result rank for overlapping issues. First merit list, second merit list, quota and release slip will publish.
Get details from here.
NU Degree Admission Fees
You will be pay a little amount to get admission in national university degree pass course. Application fees are two part. One are national university part fees. Another part is college fees. Total fee is 250 Tk. 150 Tk is for NU and 100 TK is for your desired college. Also need to pay registration fees, sports and cultural fees, BNCC fees and rover scout fees.
Admission Circular PDF File Download
Here is NU degree pass admission circular pdf file is available for download. You can checkout pdf file from our website. All admission information are available in bellows pdf file.
Just click to download.

Conclusion
After all, If you have any query about NU degree admission circular 2019-20? Please send us your query using comment or social media message. We'll reply with a positive feedback. Thanks for visiting our website and stay with bcsstudy.com